Profile
OKI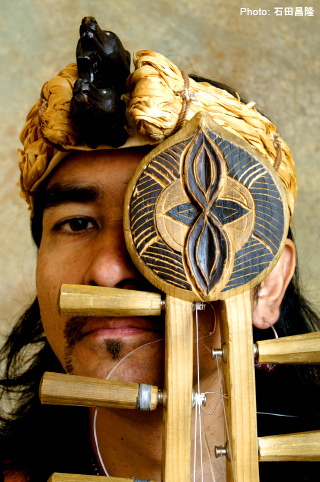 OKI was born to a Japanese mother and an Ainu father. After graduating in crafts at the Tokyo University of Fine Arts and Music, he moved to New York in 1987, where he worked as special effects artist on film productions. He returned to Japan in 1992, and was presented with his first tonkori - the traditional stringed instrument of the Karafuto Ainu. Originating from the Sakhalin Island, the instrument inspired him to relocate to Hokkaido, where he taught himself to play and craft the tonkori. Currently, OKI is the most prominent performer of this instrument in the world. His contemporary approach, which fuses Reggae, African and Electronica with Ainu folk melodies, has won praise not only in Japan, but also worldwide. Through his active participation in the United Nations' Working Group on Indigenous Populations (WGIP), OKI has developed a network with other indigenous artists. He has collaborated so far with the well-known Native American Flutist, R. Carlos Nakai, the Australian Aboriginal band, Waak Waak Jungi, the Taiwanese singer-songwriter, Pau-Dull (Chien-Nien), as well as Abe Barreto Soares, the East Timorese poet, and the Siberian vocalist, Olga Letykai Csonka. Many of these collaborations are featured on his latest album, No-One's Land, released in 2002. OKI is accredited as the producer for the widely acclaimed CDs Ihunke (2001) and Upopo Sanke (2003), both featuring Umeko Ando, the renowned Ainu performer of the mukkuri (Jew's harp) and upopo (traditional chanting). In 2004, OKI toured throughout the US, as well as performing at WOMAD in Australia, with his band OKI & the Far East Band. In 2005 OKI Dub Ainu Band were one of the sensations of the WOMAD festival in the UK, where they also appeared with the highly regarded British broadcaster Charlie Gillett live on BBC London. In 2006 OKi Dub Ainu Band were the closing act at the City of London Festival and the group toured in Norway and Spain. Oki recorded with Irish group Kila on the album Oki and Kila, receiving rave reviews by fRoots (playlist) and Songlines (Top of the World). Tracks from Oki's Dub Ainu CD have been selected for Charlie Gillett's Sound of the World compilation 2006 (Rhino/Warner Bros.) and the Very Best of World Music (Nascente).

Discography:
Kamuy Kor Nurpurpe (1996) / Hankapuy feat. Umeko Ando (1999) / No One's Land (2002) / Dub Ainu (2004) / Tonkori (2005) / Dub Ainu Deluxe (2006) / OKI Dub Ainu Band (2007) / SAKHALIN ROCK (2010)

Producer works:
Umeko Ando / Ihunke (2001) / Umeko Ando, Upopo Sanke (2003) / MAREWREW (2010)
UMEKO ANDO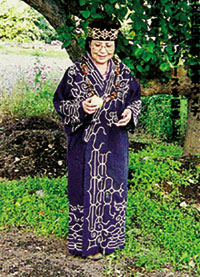 Umeko Ando was born in Fushiko Ainu village. She is a renowned expert of the mukkuri (a bamboo Jew's harp) and upopo (the traditional chanting of the Ainu). Immersed throughout her life with the culture, language and traditions of the Ainu, she has become an important successor for the Ainu culture of the Obihiro district. Her participation on OKI's second album, Hankapuy, helped to gain her recognition. Her solo debut album, Ihunke, produced by OKI in 2001, was extolled by many critics and artists, and declared the best world music album of the year by many music publications in Japan. This was followed by further critical success with her second album from Chikar Studio, Upopo Sanke (2003), gaining worldwide attention.

−July 15, 2004 Umeko Ando died from cancer at her hometown Makubetsu-cho, Hokkaido. She was 71.
TONKORI
Developed on the northern island of Karafuto (Sakhalin), the tonkuri is the only stringed instrument in the Ainu musical tradition. It is a long, flat instrument, which produces mysterious overtones. These tones are the result of its thin body allowing for sound to reverberate strongly within. The instrument's soundboard is unfretted, and traditionally only the open pitches of the 3-5 strings are sounded, so it cannot be adapted for choral harmony. The limited pitches require the player to rely on rhythmic variations to sustain interest. The resulting sound is clearly distinct from Western and traditional Japanese music.
CHIKAR STUDIO
A record label & artists' management office in Japan, which consistently delivers cool, hot rootsy music ! If you have any questions and comments, please feel free to CONTACT us.