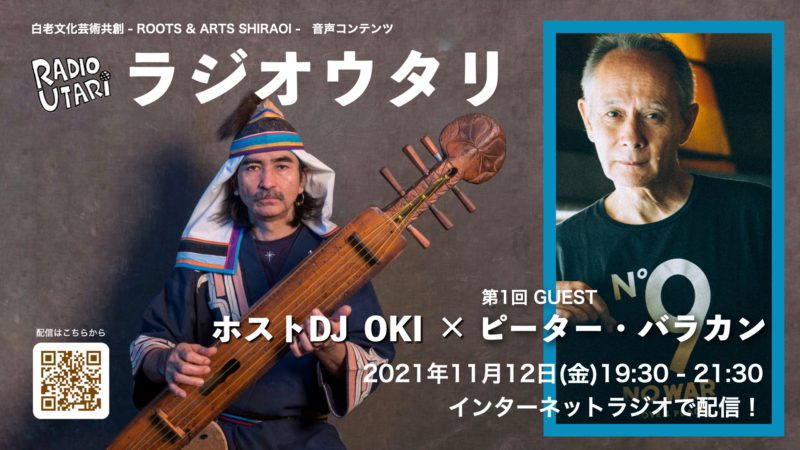 OKIがホストDJをつとめる、全3回の音楽体験プログラム「ラジオウタリ」。北海道白老町より全世界へ生放送。
アイヌ音楽をはじめ、世界各地の良質な音、知られざる音の世界を厳選しお届けする音楽プログラム。その音楽が成り立った背景、地域の伝承や伝統芸能、周辺カルチャーなどをコアに深掘りし紹介。音の世界地図を広げて、ワールドミュージックの奥深さ、世界の多様性の面白さを伝える2時間。
第1回放送では、ジャンルを問わず古今東西の真に良い音楽を聴き分ける音楽評論家でありブロードキャスターとして、また自身も多くの音楽番組のパーソナリティをつとめる、
ピーター・バラカン
氏をゲストに迎えます。
〔第1回配信〕
11月12日(金)19:30〜21:30
スペシャルゲスト:ピーター・バラカン
町民ゲスト:谷地田未緒(国立アイヌ民族博物館 )
ホストDJ:OKI
"Radio Utari" is a three-time music experience program in which OKI, a music producer and Ainu traditional stringed instrument Tonkori player, acts as a host personality DJ. It will be broadcast live from Shiraoi, Hokkaido to the whole world.
It is a music program that carefully selects and delivers the world of high-quality sounds and unknown sounds from all over the world, including Ainu music. We will dig deep into the background of the music, local folklore, traditional performing arts, surrounding culture, etc. It will be two hours to expand the world map of sound and convey the depth of world music and the fun of the diversity of the world.
The first broadcast will feature Peter Barakan, a music critic and broadcaster who listens to truly good music from all ages, east and west, regardless of genre, and who is also a personality on many music programs.
[1st broadcast]
November 12th(Friday), 19: 30-21: 30
Special guest: Peter Barakan
Community Guest: Mio Yachita (National Ainu Museum)
Host DJ: OKI